Body painting, or sometimes bodypainting, is a form of body art. Unlike tattoo and other forms of body art, body painting is temporary, painted onto the human skin with an airbrush or a simple one, and lasts for only several hours, or at most (in the case of Mehndi or "henna tattoo") a couple of weeks. Body painting that is limited to the face is known as face painting. Body painting is also referred to as (a form of) temporary tattoo; large scale or full-body painting is more commonly referred to as body painting, while smaller or more detailed work is generally referred to as temporary tattoos.
Attention! Nude artwork
Moche ceramic vessel at the Larco Museum in Lima, depicting a man, possibly a warrior, with face painting
Two girls with painted faces
Two men with painted faces, for the charity event Children in Need
A man wearing face paint for spiritual purposes
Face painting is the artistic application of cosmetic "paint" to a person's face. There are special water-based cosmetic "paints" made for face painting; people should ask before having face paints applied what products are being used. Acrylic and tempera craft paints are not meant for use on skin and are not acceptable, nor are watercolor pencils or markers. Products not intended for use on skin can cause a variety of issues ranging from discomfort to severe allergic reactions.Just because the product is marked "non-toxic" does not mean it is meant to be used on the skin.
From ancient times, it has been used for hunting, religious reasons, and military reasons (such as camouflage and to indicate membership in a military unit). Recent archaeological research shows that Neanderthals had the capability and tools for face painting; although they are no longer considered a direct ancestor of homos sapiens, they lived alongside them in some areas and it is a reasonable assumption that humanity has painted faces and bodies since the very beginning. Although it died out in Western culture after the fall of the French aristocracy, face painting re-entered the popular culture during the hippie movement of the late 1960s, when it was common for young women to decorate their cheeks with flowers or peace symbols at anti-war demonstrations. The popular TV variety show, Rowan & Martin's Laugh-In, featured bodies painted with comedic phrases and jokes during transitions.
For several decades it has been a common entertainment at county fairs, large open-air markets (especially in Europe and the Americas), and other locations that attract children and adolescents. Face painting is very popular among children at theme parks, parties and festivals throughout the Western world. Though the majority of face painting is geared towards children, many teenagers and adults enjoy being painted for special events, such as charity fund raisers. Face painting is also a part of cosplay practice, and is enjoyed yearly by people who dress up as zombies to dance with the annual worldwide "Thrill the World" event on the Saturday before Halloween.
There are many kinds of face paint, including:
Designs that include the emblems of favorite sports teams, cartoon characters, and other designs that are "cute" or otherwise appealing to the young.
Dramatic designs that appeal to all ages.
Costuming designs which transform the wearer into someone/something completely different, such as Jack Haley's silver face makeup as the Tin Man in The Wizard of Oz.
Designs that endeavor to color the face in such a way to indicate solidarity with a cause, usually the outcome of a sporting contest or membership in a group.
Popular face painting designs include;
Tiger - This design, in most cases, consists of a body of orange and yellow paint, with black stripes painted on. Details include bushy eyebrows and a muzzle or whiskers, alongside a black painted nose.
Clown - This design, in most cases, consists of a body of white painting. With shapes and features such as a red nose or bright eyes the model is made to take on the features of a circus clown.
Spider-Man - This is a body of red paint with white eyes and spider like black patterns on the models face. Similar to that of the mask worn by Spider-Man.
Dog - Commonly a dalmatian, this design is white with large black spots on the eyes and cheeks. A black nose is added along with whisker pores. A tongue is commonly added to give the effect of the model panting, similar to that of a dog.
Butterfly - A design consisting of the body of the butterfly being painted on the nose and the wings added across the cheeks. Wing patterns vary.
Cat - Many designs may feature under this heading. It could be a plain black tabby cat or a wild leopard. Either way, it usually consists of a neutral body of paint with bushy eyebrows and a muzzle.
It is common to find if someone is dressed in an animal costume, a black nose will be added alone to give the impression of an animal face and not just body. Sometimes, a full face is added or sometimes none at all.
Most theme parks have booths scattered around where a person can have a design painted on their face. A similar activity is the application of "instant tattoos", which are paint or ink-based designs that are put on as one unit and removed by means of water, alcohol, soap, or another mild solvent. More elaborate temporary tattoos may be made using stencils and airbrush equipment. Very recently, "glitter tattoos" have been gaining popularity. These are made by filling a stencil (or freehand painting a design) with The "Original Pink Glue" then coating the adhesive with cosmetic-grade glitter. Other cosmetic-grade adhesives or medical-grade adhesives can be used to adhere the glitter. Shimmer tattoos are iridescent mica powders applied over a base of either hand-applied temporary tattoo ink or medical grade adhesive. They can last up to a week depending on the model's body chemistry.Body paints
Modern water-based face and body paints are made according to stringent guidelines, meaning these are non-toxic, usually non-allergenic, and can easily be washed away. Temporary staining may develop after use, but it will fade after normal washing. These are either applied with hands, paint brush, and synthetic sponges or natural sea sponge, or alternatively with an airbrush.
Bodypainting with fluorescent paint. This type of facial makeup is intended for use only on limited, infrequent occasions, e.g., Halloween, and not for regular or daily use
Contrary to the popular myth perpetuated by the James Bond film Goldfinger, a person is not asphyxiated if their whole body is painted
Liquid latex may also be used as body paint. Aside the risk of contact allergy, wearing latex for a prolonged period may cause heat stroke by inhibiting perspiration and care should be taken to avoid the painful removal of hair when the latex is pulled off.
Manufacturers of widely available professional body and face paint include: Ben Nye, Derivan, Diamond FX, Fardel, Grimas, Kryolan, MAC-Pro, Mehron, Smiffy's Make-Up FX, Snazaroo and Wolfe Face Art & FX.
The same precautions that apply to cosmetics should be observed. If the skin shows any sign of allergy from a paint, its use should immediately be ceased. Moreover, it should not be applied to damaged, inflamed or sensitive skin. If possible, a test for allergic reaction should be performed before use. Special care should be paid to the list of ingredients, as certain dyes are not approved by the US FDA for use around the eye area —generally those associated with certain reddish colorants, as CI 15850 or CI 15985— or on lips —generally blue, purple or some greens containing CI 77007— More stringent regulations are in place in California regarding the amount of permissible lead on cosmetic additives, as part of Proposition 65 . In the European Union, all colorants listed under a CI number are allowed for use on all areas. Any paints or products which have not been formulated for use on the body should never be used for body or face painting, as these can result in serious allergic reactions.
As for Mehndi, natural brown henna dyes are safe to use when mixed with ingredients such as lemon juice. However, a commonly marketed product called "black henna", is not safe to use because the product has been made by mixing natural henna with synthetic black dyes containing PPD, which can cause serious skin allergies, and should be avoided due to the substantial risk of serious injury. Another option is Jagua, a dark indigo plant based dye that is safe to use on the skin and is approved for cosmetic use in the EU.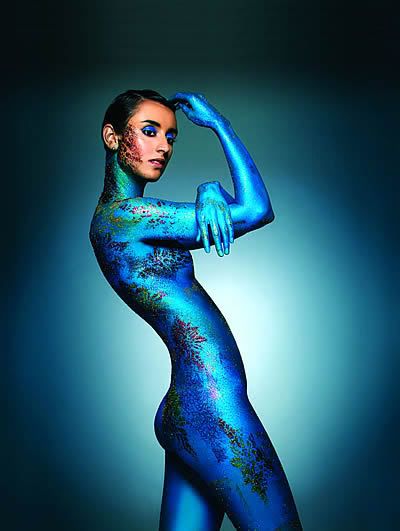 Hand art is the application of make-up or paint to a hand to make it appear like an animal or other object. Some hand artists, like Guido Daniele, produce images that are trompe l'oeil representations of wild animals painted on people's hands.
Hand artists work closely with hand models. Hand models can be booked through specialist acting and modeling agencies usually advertising under "body part model" or "hands and feet models".